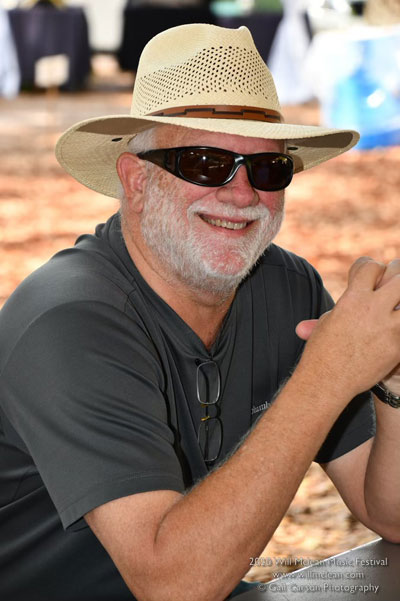 As a fifth generation Florida native, a Florida musician and a Florida songwriter, I consider it a genuine privilege to serve as the President of The Will McLean Foundation.  And, I am particularly grateful to you for taking the time to visit our website and read this message.  The Foundation has proudly produced and presented the Will McLean Music Festival since 1991.  It is, we believe, the finest annual acoustic music festival in Florida and is the only one specifically dedicated to supporting and celebrating our own treasured Florida based musicians and songwriters.  But, as you look through this website you will find that The Will McLean Foundation is so much more than just the annual festival - a LOT more!
Our core belief is that we can "save Florida through music."  Will McLean dedicated his life and his art to preserving and embracing Florida's native culture and folklore.  He saw the immense, though fragile, value in our natural resources and pursued a deep interest in our history, the good and the bad, the joyful and the tragic.  The Foundation strives to carry on that legacy through the music by having a positive impact on our state and all who are privileged to call it home.
Central to our mission is supporting and nurturing our Florida artists, providing them with opportunities to share their work with the public.  Beyond the annual festival, the Foundation underwrites the monthly Sunday Sampler concert series at the historic train depot in Dunnellon, FL.  That series is currently being expanded with the ultimate goal of offering similar monthly concerts by our Florida artists in acoustic music venues throughout the state.
The Foundation also works to cultivate the next generation of Florida artists, our youth.  We offer an exceptional youth program at the festival that has become an anticipated annual tradition for so many.  We offer yearly educational scholarships to our college bound young adults that have demonstrated an interest in the Florida arts.  We are also developing an in-school educational program, presented by musicians, exposing kids to Florida's rich history and folklore through the arts.
All of this exceptional work is done by a wholly volunteer organization and I could not be more proud of this dedicated team.  We are growing daily, tackling new challenges and expanding the ways we can serve.  It's fun, fulfilling work and there's much to do.  If anything you see in these pages strikes a chord with you (pun intended), we need you!  Join us.  Become a member, offer your talents, whatever they might be, and be part of this important mission - saving Florida through music.  We'd love to have you!
All the Very Best,
Doug Spears